HOME
SAENIS Efficycle started in 2010 and GNDEC has been participating every year in the competition since its commencement. The event provides an opportunity to students for learning and understanding various engineering concepts by implementing them practically. For the first 4 seasons GNDEC participated under the team name "MANIACS". In 2014, the team name was changed to "REVENTON". In 2014 edition of the event, Team REVENTON from GNDEC bagged overall SECOND POSITION out of a total of 250 teams all over INDIA.
What is SAENIS-EFFICYCLE?
Efficycle is an intercollegiate design competition for undergraduate and graduate students where teams have to design and fabricate an energy efficient entirely human powered three-wheeled vehicle. The vehicle must be aerodynamic, highly engineered and ergonomically designed. The design should be commercially viable as a product and should be attractive to the consumers because of its visual appearance, performance, reliability and ease of operation.
EFFICYCLE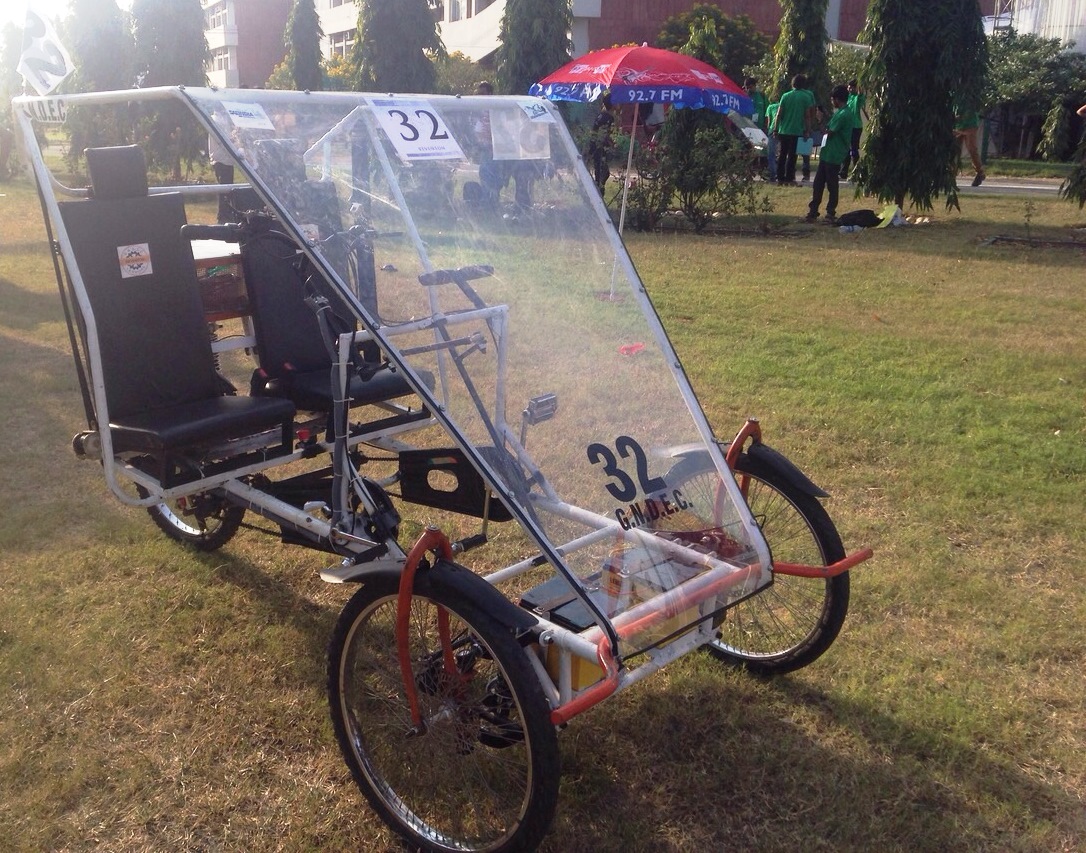 Type Human-powered electric Hybrid trike
Design Tadpole configuration (2F1R)
Capacity 2 Drivers (120 kg each), payload (20 kg)
Brakes Disk Brakes at each tyre.
Suspension Double wishbone SLA suspension
Motor rating 250 W
Speed 40-45 km/h (On hybrid drive)

TEAM
Rishab Gumber (Captain) Ankush Partap Singh (Vice-Captain) Ankur Partap Singh Bhawanjeet Singh Alok Singh Chandan Ahuja Daanvir Karan Vishal Bansal Sanchit Dua Lovejeet Singh
SPONSORS 2014
Get To Know Our Sponsors That Support The Team
GALLERY
CONTACT-US
Contact Us: +919814201234(Rishab Gumber)